When the circus meets the cabaret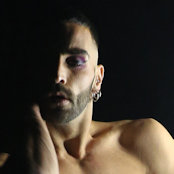 CÚlia & Julien Faucheux are two passionate circus artists, partners in life and on stage for more than a decade.
After working together,for some of the biggest cruise companies in the world, in 2015 they created Adagio Productions and produced acrobatic shows of high quality both in technical prowess and artistically. They personally train the artists who become the stars of their shows. Three of their shows are on permanent display aboard Costa Cruises ships.
Hard hit by the health crisis and the stoppage of cruise ships, they decided to change their life, and to put their creativity and courage in this crazy project - Circabaret. They are at the same time producers, creators, managers and choreographers of their shows.
After dropping off a business card, we were invited to see and shoot the show. These are the results - well, some of them - there were far too many to publish them all and even this gallery is so large I've had to split it into a number of pages. Click on the photo to go to page one or on the links below for any page.